The year of 2020 has by far been the most dreadful time of our lives. The never-ending quarantines, the uncomfortable face masks and the 'don't forget to wash your hands' were the highlights of our everyday life. The whole world was ghastly affected by the Covid-19 pandemic making many lose their lives, occupations and homes.
With the coming of the new year, Hayleys Aventura partnered with Suzhou Asia Fuji Co., Ltd aims to make a change in the world by keeping the pandemic at bay and saving the lives of many.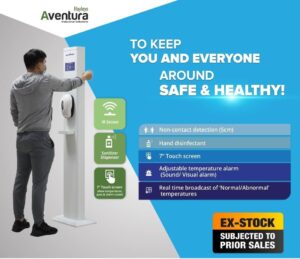 Manufactured by the state of the art facilities the Heat detection & Sanitization device has been designed for the well-being of our people.
Since the outbreak of covid-19 we have endured many struggles in our lives. From social distancing, to routine cleaning and disinfecting surfaces, and having to stay at home for long periods of time, we as humans are being affected a lot by the corona virus.
So with the start of 2021 how can we change this?
The easiest method to detect and prevent the spread of  corona virus is by checking the body temperature of a person. Although it is seen as a very common method and there are many heat detection devices that are decreasing in quality nowadays, Hayleys  Aventura  strives to resolve such defections with the new Heat detection & Sanitization device made with top-tier modern technology. Hayleys  Aventura  offers remarkable service to both local and global marketplaces. All-embracing solutions at Hayleys Aventura are original and convenient. Having sustainability at the core, we are always on the road of global standards.
The Heat detection & Sanitization device  with its high-tech IR sensor is able to detect the body temperature of a person in a non-contact distance at a  short period of time and give real-time broadcast of the results, precisely. The automatic sanitizer dispenser installed makes sure you're hands are clean and germ-free. With a 7'' touch screen and adjustable temperature alarm, this device satisfy all needs to assure your health and safety.
So, are you ready to take care of yourself, your loved ones and wave good-bye to the ongoing pandemic?
Want to learn more or get more details? Contact us on 0775362680/ 0766464963