The year 2020, is no doubt a year which will remain in memory for most as a time where the entire world was brought to a halt.
Let's examine how this is impacts your business and why your business needs to undertake necessary precautions as well…
Firstly, it is widely understood that Covid-19 took a toll on every business, some in a positive way and most in a negative aspect, hurting many economies.
In the recent past, although Sri Lanka managed to keep businesses up and running, a very critical part of this move to keep businesses in motion was to provide adequate precautionary facilities, to help with keeping in-line with safety guidelines.
A most commonly seen method of preventing the spread of diseases or even Covid-19, was to track each individual\'s body temperature. As effective as this proved to be in controlling the spread, many organizations faced an issue of inaccuracy, or failure to detect a moving object.
Hayleys Aventura, has stepped up to the occasion here in order to help rectify this flaws in most devices found in the marketplace. Being a company that offers premium devices to suit various industries, we like to present the perfect device to help take proper precautions in your place of business or any other locations.
Presenting our Heat detection & Sanitization device in Sri Lanka, manufactured by Suzhou Asia Fuji Co., Ltd.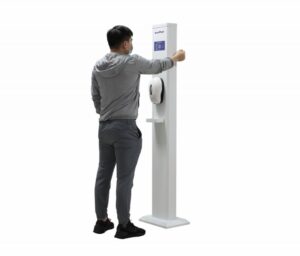 Surpassing traditional heat detection systems, this device offered by Hayleys Aventura comes equipped with a state of the art IR sensor, for accurate readings in a short period. And also offers a hand sanitization facility to help you simultaneously track your body temperature as well as to get rid of any germs on your hands.
Have you set up for proper precaution in your business location or surroundings?
Call us for more details – 0775362680 / 0766464963